Graphic Design Portfolio
I find comfort in telling stories through visuals. Whether it's crafting a logo for a new cafe, or creating custom graphics to promote events on social, my background in graphic design has aided me in all my digital marketing pursuits.
Proficient in the Adobe Creative Suite with a focus on Indesign, IIlustrator and Photoshop
Branded Digital Brochure - The catered affair
In their subtle re-brand in 2015, The Catered Affair worked to modernize their external facing material with richer imagery, more color, and a clean look. I worked closely with the management team, venue operators, and chefs to create updated menus, venue brochures, holiday promotional materials, and other online brochures. Above is their 2016 Company Brochure.
In late 2016, the Boston Public Library re-opened the Johnson Building. The updated venue gave The Catered Affair a chance to showcase their multifaceted event style and this brochure was meant to showcase the beauty of both sides of the building.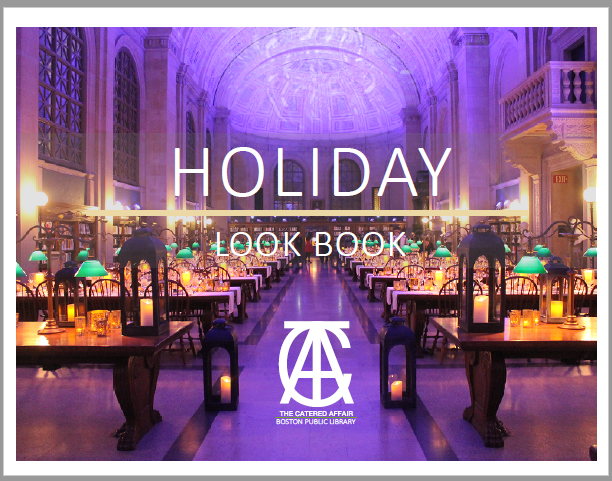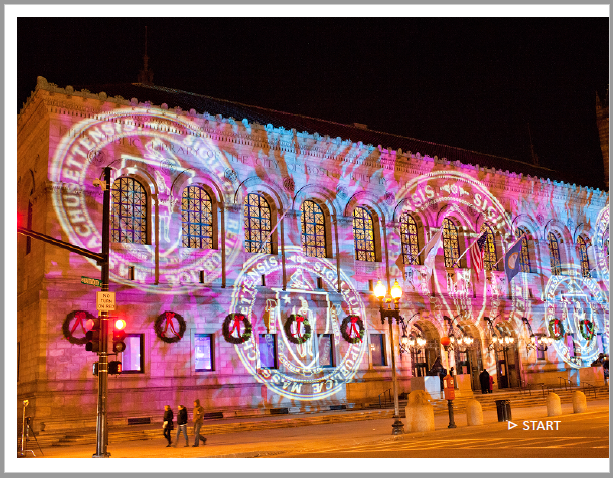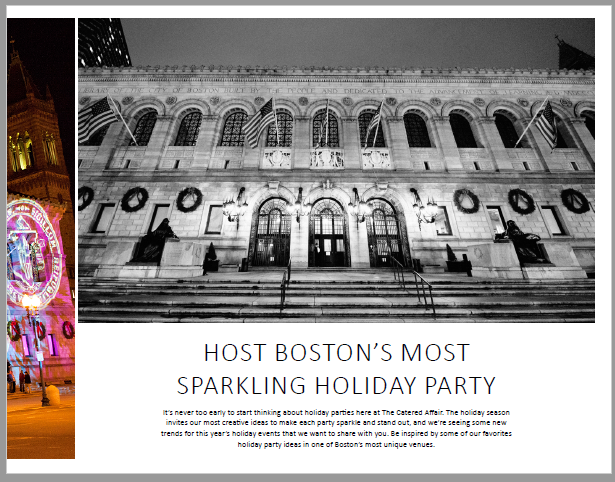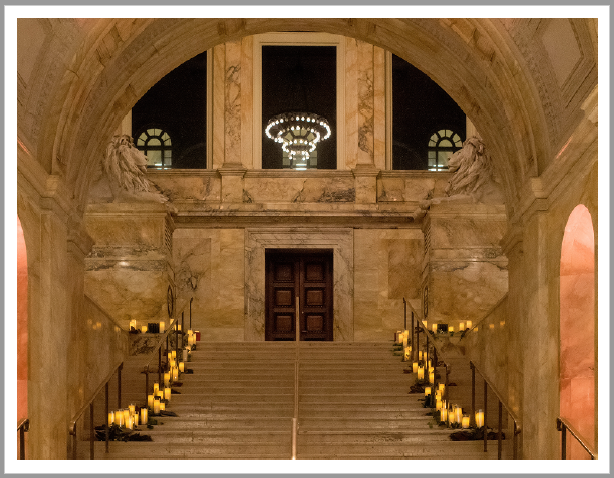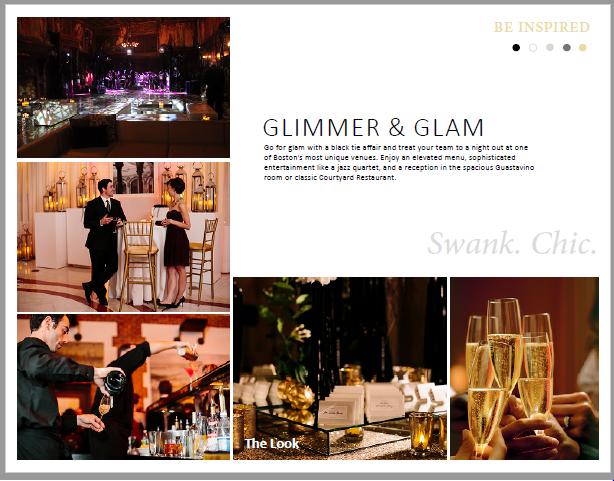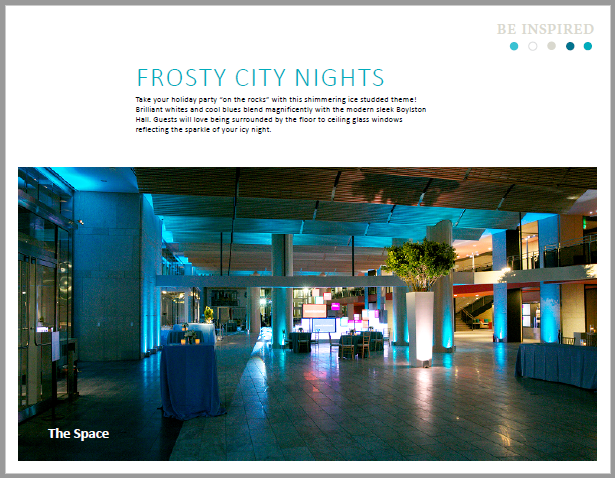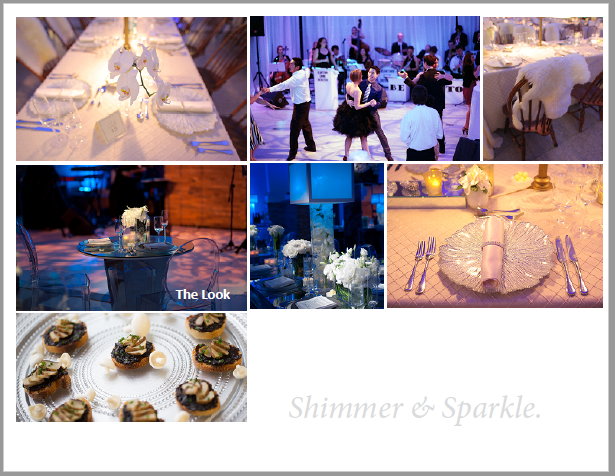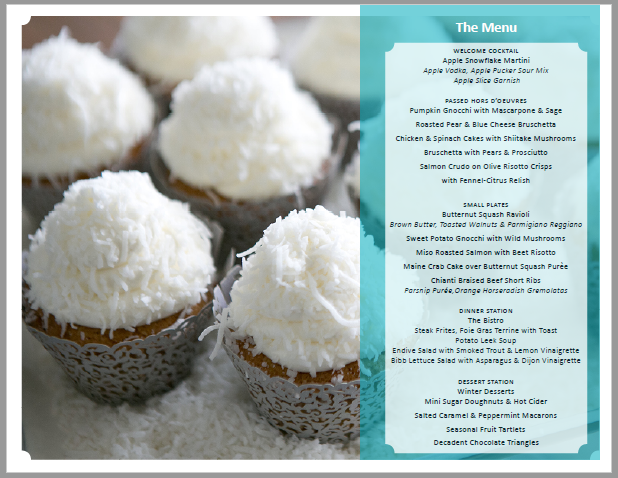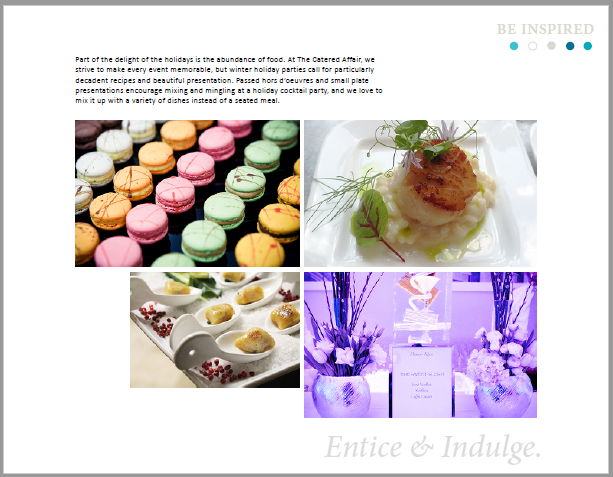 LOGO Concept - Newsfeed Cafe at the boston public library
Newsfeed Cafe was a new concept cafe arriving at the Boston Public Library managed by The Catered Affair. As part of their development process, I was able to submit a concept for a logo and some product branding options. Above is my concept for the cafe's logo. As a joint cafe between the Boston Public Library, The Catered Affair, and WGBH, I wanted to create a logo that respected the history of the library while embracing the Johnson building's new youthful wing, the importance of public radio, and the modern and delicious cuisine TCA would be offering.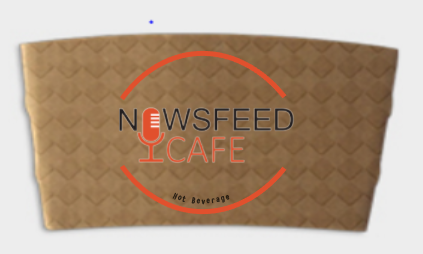 Coffee Cup Concept
The branded coffee cup was designed to be a toast to the cafe's library origins. The front showcases the logo with the cafes branded orange color and some size typography that echoes a library card date stamp. The back is designed like a library catalog card with recipe information seemingy stamped on.
Materials created for cafe launch
In the end, another logo was chosen for final launch. After receiving the logo file, I assisted in creating graphics to showcase our launch event including menus, social media GIFS, and promotional bookmarks.